Work for Us
Communities In Schools of Greater New Orleans welcomes applications from qualified individuals who are committed to the success of children in New Orleans' public schools.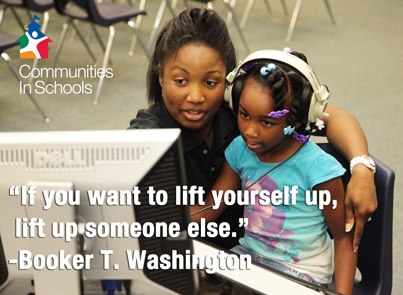 (Updated 06/23/2017)
CIS Behavior Interventionist

Summary:
Communities In Schools of Greater New Orleans, Inc. is expanding. We are seeking a qualified professional to implement school wide and individual behavior supports and interventions within the CIS evidence-proven model on the campus of a New Orleans charter school that serves students in PreK- 8th grade. The Behavior Interventionist will collaborate and work closely with school staff and administration to implement PBIS and preventative Tier 1 behavior interventions. The BI will play an integral role on the Behavior Response to Intervention Team. This team will assess student need, prescribe and implement evidence based classroom, group and individualized interventions so that student behavior does not interfere a student's ability to be successful in the classroom setting. The BI will be will be "on-call" throughout the day to respond to and deescalate behavior incidents and student crisis with the goal of assisting the student to re-enter and stay in the classroom in a timely manner. The BI will communicate frequently with the CIS Site Coordinators, families, staff and administration of the school. Superior communication, organization and interpersonal skills are required. Applicant must have knowledge of childhood development, evidence based behavior interventions, and restorative practices as well as interest in building these skills through research and training. Full-time year-round position with benefits. Must have reliable transportation.

Education: Bachelor's Degree Required. Preference given to degrees in the area of Psychology, Social Work, Counseling or Education.

DOL Status: Exempt

Reporting Structure: This position is supervised by the Director of Student Services and may supervise other staff such as members of the behavior intervention team

Essential Functions:
• Responds to student behavior incidents involving out of classroom placement or student crisis situations
• Assists in establishing the school's student discipline plan and the school's plan for ensuring a safe and orderly environment
• Ensures that school policies and procedures related to student discipline referrals and discipline action plans meet state, federal, and OPSB requirements.
• Implements and enforces the school discipline policy and rules
• Oversees in-school suspension, ensuring all students are driving academic achievement during their classroom removal.
• Works with classroom teachers, the RTI team, and school leadership to document discipline referrals and track progress frequency.
• In tandem with SPED and RTI, provides input for BIPs, FBAs, and behavioral IEPs and executing the resulting interventions.
• Assists in maintaining healthy and safe school culture through daily transitions (intake, dismissal, and classroom transitions)
• Ensures services and discipline data are recorded in CIS and school database daily

• Provides direct service including supportive guidance to students.
• Contacts families daily regarding behavior incidents and works collaboratively with families through phone calls, meetings and home visits.
• Reports on Case Progress and End of Year status
• Prepares and submits reports as needed
• Participates in the CIS team approach to service delivery and problem solving
• Provides other activities and duties as directed by supervisor
• Maintains professional relationships with school, families, agencies and organizations
• Participates in professional development
• Models nondiscriminatory practices in all activities.
Specific Job Competencies:

Demonstrates agency core competencies

• Communication
o Understands the purpose of communication and uses appropriate method of communication for each situation
o Uses clear and specific language utilizing "I" statements
o Displays a knowledge of crisis intervention strategies, ability to apply a gradually progressive system of verbal and non-verbal strategies to effectively deescalate potentially dangerous situations
o Displays active listening skills
o Responds to phone and email messages in at timely manner
o Uses discretion when sharing information
o Establishes a system for information sharing and follow-up

• Organizational Skills
o Ability to organize work flow to meet goals
o Attention to detail
o Strong recordkeeping and documentation skills

• Computer Skills
o Demonstrate basic office automation skills in order to fulfill job responsibilities
o Seek out formal or informal training to increase computer skills to more effectively perform job skills
o Compile notes and other written information to share with co-workers and new staff to solve reoccurring computer issues and questions
o Demonstrate an increase in proficiency over time with the basic use of computer equipment and standard software operations.

• Teaching and Training
o Creates an atmosphere of shared learning through opportunities for participation, questioning, and sharing of personal experiences
o Employs a wide variety of creative and diverse techniques suitable for audience to support learning goals
o Incorporates a process of feedback to evaluate effectiveness
o Creates clear objectives and expectations

Other Qualifications:
• Experience in working with at-risk youth and court-involved youth
• Ability to work with diverse cultural backgrounds
• Flexibility, resourcefulness, enthusiasm and high energy.
• Must have a valid Louisiana driver's license and automobile insurance.
• Criminal background check required.

If interested, please click Apply Now below to fill out an application. Attach your cover letter and resume to the application before submitting through PDFfiller.
Click here to apply. Once you have finished the application, select "done." You will then be prompted to upload your cover letter and resume. All three are required to be considered for any position.