Work for Us
Communities In Schools of Greater New Orleans welcomes applications from qualified individuals who are committed to the success of children in New Orleans' public schools.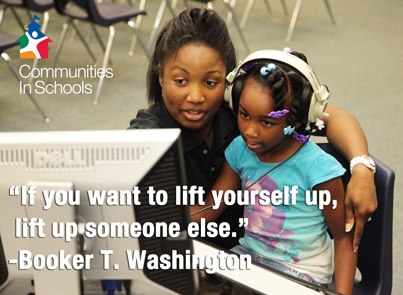 (Updated 03/06/2018)
Summary: The Behavioral Health Counselor will provide direct services to students as well as coordinate services by other providers.

Education: Minimum of a LMSW or PLPC as determined by the President.

DOL Status: Exempt

EEO Category: 2. Professional

Reporting Structure: This position is supervised by Director of Student Services and may supervise other staff such as AmeriCorps members, repositioned staff, interns and/or volunteers.

Essential Functions:
• Manage program at CIS site(s)
• Assist in conducting Needs Assessment on a whole school level
• Assist in creating Site Plan for whole school in collaboration with school staff
• Collaborates with teachers and campus administration, to develop an individual service plan (ISP) for all students with IEP counseling services required
• Implements the ISP for those students including monitoring and re-assessment
• Reports on Case Progress and End of Year status
• Ensures services are recorded in CISDM by the 5th day of the following month they were provided
• Provides referrals
• Provides follow-up
• Prepares and submits reports as needed
• Provides service to students without an ISP on an as needed basis (such as crisis, or basic needs distribution)
• Complies with TQS (see attached)
• Participates in the CIS team approach to service delivery and problem solving
• Provides other activities and duties as directed by supervisor
• Maintains professional relationships with schools, agencies and organizations
• Supports the transfer of supplies and materials at office or school level

Specific Job Competencies:
• Demonstrates agency core competencies

• Clinical Skills
o Assess client needs and strengths with accuracy
o Plan, implement and evaluate effective interventions and service plans
o Use effective therapeutic communication skills (active listening, open-ended questions, non-judgmental, client-centered, empathy, conflict resolution, de-escalation)
o Maintain professional boundaries and awareness of personal values
o Seek out professional consultation and supervision
o Document clinical services in accordance with CIS and professional standards
• Communication
o Understand the purpose of communication and use appropriate method of communication for the situation
o Use clear and specific language utilizing "I" statements
o Display active listening skills
o Respond to phone and email messages in at timely manner
o Use discretion when sharing information
o Establish a system for information sharing and follow-up

• Organizational Skills
o Ability to organize work flow to meet goals
o Attention to detail
o Strong recordkeeping and documentation skills

• Computer Skills
o Demonstrate basic office automation skills in order to fulfill job responsibilities
o Seek out formal or informal training to increase computer skills to more effectively perform job skills
o Compile notes and other written information to share with co-workers and new staff to solve reoccurring computer issues and questions
o Demonstrate an increase in proficiency over time with the basic use of computer equipment and standard software operations.

• Supervisory Skills
o Provide direction and structure to support supervisees' work
o Model excellence in core competencies and professional behavior
o Maintain balance of work tasks and supervisee support
o Assess and implement individualized supervision based on assessed needs, strengths and input from supervisee
o Provide clear and consistent expectations and communication

• Teaching and Training
o Create an atmosphere of shared learning through opportunities for participation, questioning, and sharing of personal experiences
o Employ a wide variety of creative and diverse techniques suitable for audience to support learning goals
o Incorporate a process of feedback to evaluate effectiveness
o Create clear objectives and expectations

Other Qualifications:
• Experience in working with school-age children
• Ability to work with diverse cultural backgrounds
• Willingness and ability to tutor students
• Flexibility, resourcefulness, enthusiasm and high energy.
• Must have a valid Louisiana driver's license and automobile insurance.
• Criminal background check required.

If interested, please click "Apply Now" below to fill out an application. Attach your cover letter and resume to the application before submitting through PDFfiller. Please, no phone calls. We look forward to reviewing your application.

CIS CHAMP CAMP YOUTH DEVELOPMENT COACHES

Communities In Schools of Greater New Orleans, Inc. is looking for Youth Development Coaches to work in our after-school Champ Camp, a 21st CCLC funded program in four New Orleans Public Schools. CIS Champ Camp is offered at four school sites for students in K-3rd grade. Immediate start.
Ideal candidates will have experience in a classroom setting as a teacher, paraprofessional, substitute, or volunteer. Other experiences working with children may be substituted for classroom experience. Candidates must have the ability to engage students, and communicate well with students, parent, staff, and school day teachers. Youth Development Coaches will help with homework and further reinforce what the students have learned during the school day.
Start time at 3:15pm and all camps end at 5:30pm. The estimated commitment for Youth Development Coaches is 10 to 12 hours per week, Monday through Friday, excluding any school holidays.

If interested, please click the link below labeled "Apply Now" to fill out an application. Attach your cover letter and resume to the application before submitting through PDFfiller. If you have been involved with the Youth Program Quality Initiative (YPQI) please describe your involvement in your cover letter. Interviews will begin immediately. Please, no phone calls. We look forward to reviewing your application.

Background
The mission of Communities In Schools of Greater New Orleans is to surround students with a community of support, empowering them to stay in school and achieve in life. In an effort to expand support for Orleans Parish children within 21st Century Community Learning Centers (CCLC) funded after school sites, Communities In Schools of Greater New Orleans Schools is seeking partners who will work within the CIS Model of Integrated Student Services (ISS) to benefit students. This needs-driven approach to meeting school-wide (Tier 1) needs and individual student (Tier 2) needs has been shown in a national independent evaluation to dramatically improve students' math and reading proficiency and improve the graduation rate.

What We Are Seeking
We are seeking partners who agree to:
• Work within the CIS Model of Integrated Student Services (ISS) and work together to help improve students' attendance, behavior, reading, math, and writing;
• Deliver a program or service that addresses one or more of the following identified needs and/or student interests:
• Literacy (reading & writing)
• Math
• Golf
• Cheerleading
• Culinary Arts
• Team Sports
• Performing arts
• Visual arts
• STEM
• Photography
• Tennis
• Yoga
• Gardening
• Share our belief in the 'CIS Five Basics'--that all students need and deserve: a one-on-one relationship with a caring adult, a safe place to learn and grow, a healthy start and a healthy future, a marketable skill to use upon graduation, and a chance to give back to peers and the community;

Sites

Cypress Academy

Program Description
Each year, approximately 355 students with strategic level needs in reading, writing, math, attendance, and behavior benefit from this extended learning opportunity. Students at each site receive services 5 days per week (Monday – Friday) for approximately 27 weeks during the school year. Elementary sites operate for 1.5 to 2 hours each school day. Each site has a daily schedule which includes homework/math/literacy and enrichment blocks.

CIS aligns the 21st CCLC programs with the school's curricula.

The program will demonstrate significant impact as evidenced by regularly attending students:
• Reaching proficiency in attendance, behavior, reading, writing, and math
• Receiving better grades in the courses
• Higher assessment program (PARCC/ LEAP) scores

CIS will achieve these program goals by offering a high quality youth development program at each of the four sites. CIS uses the Youth Program Quality Assessment (YPQA) as a measure of program quality.

Selection Process
Partners are chosen based on a combination of factors, including experience offering proposed programming or similar programs, staff credentials, quality of programming, feasibility of program plan related to desired outcomes, cost, and commitment to collaboration.

You will receive notification of a final decision regarding your proposal via email.
Click here to apply. Once you have finished the application, select "done." You will then be prompted to upload your cover letter and resume. All three are required to be considered for any position.

Please follow the above link for details on the requirements for a proposal. Attach your cover letter, references, a sample lesson plan for the course, and resume to the proposal before submitting by email to champcampjobs@cisneworleans.org.