CIS Model
Most communities have resources available to help students succeed in school and prepare for life- but they may be in the wrong place. Children and families must first locate and then travel to agencies scattered all over town, usually during school hours and with no way to coordinate the various services.
CIS reverses this process, bringing resources and relationships to where the children already spend their days- the public school. These resources are delivered in a caring, coordinated manner. The result is students succeeding in school.
Our work directly improves the experience effectiveness of teachers by freeing them up to teach. We are embedded in the schools and able to respond immediately to the needs of teachers and students as they arise. In classrooms without integrated student services, teachers are often expected to serve as counselors, mentors, mental health specialists, and resources coordinators in addition to their primary function as educators. Our work provides professional Site Coordinators to take on those extra duties, allowing teachers the time and energy to succeed as teachers.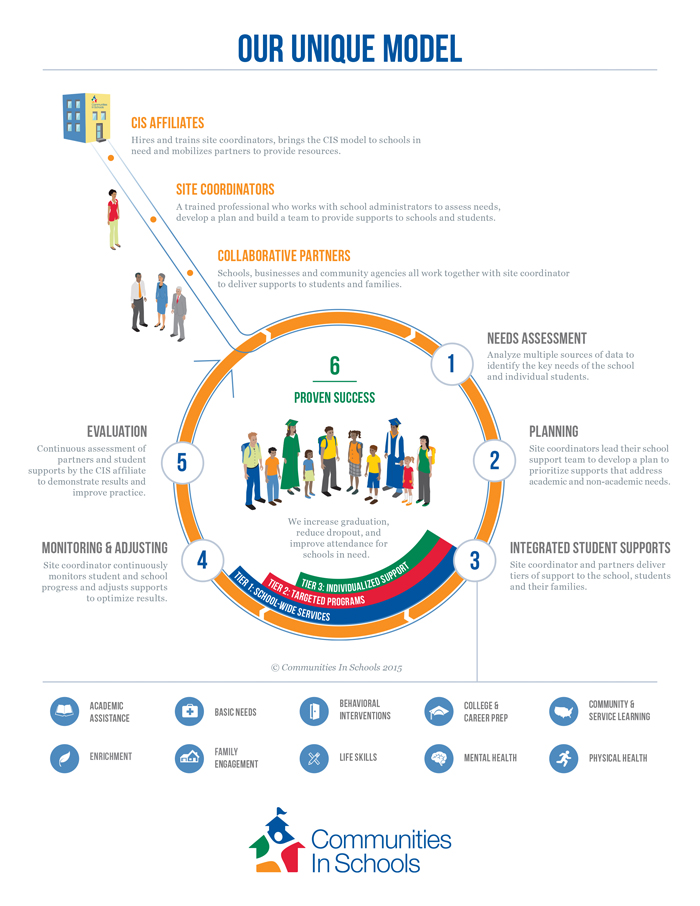 Service Strategies
CIS is not a single program...it is a process. CIS helps school staff, parents, and community members assess the needs of the children in their community and design plans for meeting those needs. Each school that partners with CIS can choose from a variety of service strategies to accomplish its goals.
Parent Involvement
Educators agree that students achieve more when their parents get involved. CIS works with school staff to initiate or energize parent activities, such as parenting skills training, family reading nights, health fairs, or PTA meetings.
Service Partnerships
CIS recruits service partners from many sectors of the community to bring needed services to schools, such as mentors, tutors, health services, technology training, field trips, or enrichment activities. CIS identifies the partners, coordinates the delivery of services, and follows up to determine results.

Incentive Programs
CIS solicits donations of products for use in school programs that reward, motivate and honor students, staff, volunteers, and parents. Donated products may include books, event tickets, gift cards for meals or entertainment, school supplies, or computers.
Family Support
A single crisis in a student's life -- a house fire or eviction, a parents' illness or incarceration -- may negatively impact that child's success in school for years to come. A CIS coordinator helps school staff identify students and families who are struggling, provides counseling and links to agency resources, and follows up to ensure that the student gets back on track academically.
Case Management
Many schools have students who rarely attend school, are disruptive, have social needs, or fail to pass courses. A CIS Site Coordinator provides positive interventions that include an ongoing, one-on-one relationship with the student, linkages to needed services, and regular monitoring of students' progress.
Building Young Leaders
CIS works with small groups of students who meet on a regular basis to learn goal setting, conflict resolution, teamwork, community service or other life skills. The goal is to help young people transform themselves from potential dropouts to potential leaders.
Career and College Preparation
CIS introduces students to various career options through career day speakers, job shadowing, internships, and college tours.
Frequently Asked Questions
What exactly does Communities In Schools do?
CIS is not a program, but a process of brokering and coordinating services into schools to benefit youth and families. CIS facilitates numerous services in 17 schools. We seek first to facilitate the service or program of an existing community resource. If one service does not provide the sole solution, then multiple solutions are facilitated.

Where are you located?
The main offices of CIS New Orleans are conveniently located at 3400 Bienville Street. The Champs Choice Store is also located in this building. School services are provided onsite at each CIS school.

Do you support schools outside of New Orleans?
At this time, CIS facilitates services in Orleans and East Baton Rouge Parishes. CIS is now prepared to serve schools in Jefferson, St. Tammany, St. Bernard, St. Charles, and Plaquemines Parishes. 

How can my school become a part of CIS?
Please contact Sara Massey, President, at 504.494.4435 to set up an appointment to discuss bringing CIS services to your school.

How much does it cost to have a CIS program?
The cost of services varies according to the breadth and depth of services requested. Each program is designed in partnership with the school and its community to meet the individual needs and interests of its students and their families.