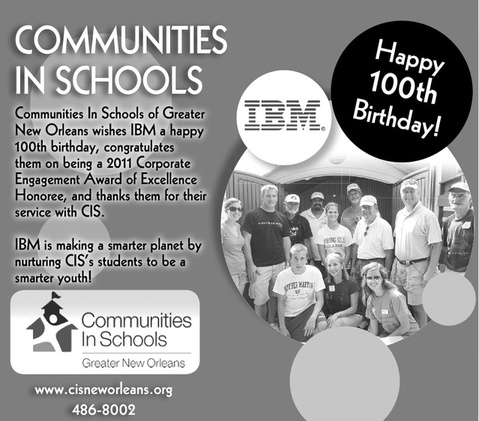 IBM is making a smarter planet by nurturing CIS's students to be a smarter youth. IBM decided to help CIS complete a playground project at Lagniappe Academy in the Treme area. With a contribution from IBM, CIS was able to purchase picnic tables, basketball hoops, gym equipment, water bottles, and a storage shed for the school.
Lagniappe Academies is a public school chartered under the Recovery School District of Louisiana. Our students come from all over New Orleans, but mostly from the Tremé neighborhood, which was heavily damaged by Hurricane Katrina in 2005. The mission of Lagniappe Academies is to promote academic excellence, resilience, and self-awareness in New Orleans' children. By partnering with families, community organizations, and other institutions who share their core values, Lagniappe will inspire students to celebrate their cultural heritage and embrace new opportunities.
Lagniappe did not have any playground equipment, places to sit outside, or any place to store equipment if they did have it. CIS and IBM came to their rescue! The IBM volunteers quickly began building and staining the picnic tables. It took a dedicated team to put up two full-size basketball hoops. This was the project students were most excited about! Some 5th graders had even started a basketball hoop committee to try to get basketball hoops at their school. The final project was the storage shed. Luckily, there were some experienced volunteers who got the job done in such an efficient manner.
Some of the volunteers cooled off inside and helped to complete summer literacy kits for CIS. The kits were going to be handed out to every student at a CIS school before they leave for summer break. That's over 3,500 kits! Each kit included a brand new book, a summer reading list, a reading journal, and some reading activities. These kits were made possible by Macy*s and Reading Is Fundamental.
Everyone ended the very hot Saturday with some Popsicles and shooting a few hoops! This project would have not been completed without the hard work of all the IBMers. Thanks, IBM!