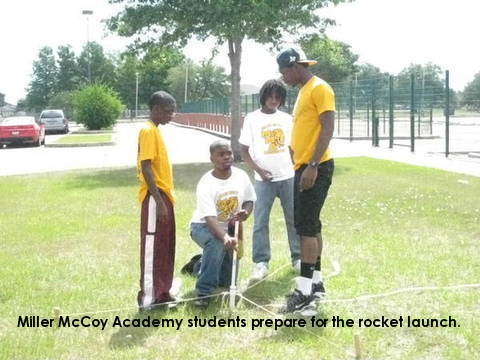 Communities In Schools of Greater New Orleans, Inc., ScienceREACH program held a rocket competition Saturday, May, 14th, 2011 at Sarah T. Reed High School. There were a total of 14 students that participated from Miller McCoy Academy, Sarah T. Reed High School, and Walter L. Cohen High School.
Each school was judged on the following: positive teamwork, decoration of their rocket, calculation of the velocity of their rocket, and how high their rocket launched. The students worked extremely hard during and after school to prepare for the competition because they wanted to represent their school and themselves well. During the competition, the students did an exceptional job presenting their results and having positive teamwork. Job well done to Miller-McCoy Academy for winning 1st place, Walter L. Cohen High School for placing 2nd, and Sarah T. Reed High School for placing 3rd place.
ScienceREACH AmeriCorps volunteers, Chavell Scott and Jade Parker, would like to extend their congratulations for to all three schools for a all of their hard work and for doing an outstanding job.
ScienceREACH would also like to thank Chef Lance Franklin co-owner of The Crimson House Restaurant for catering the food for all the participants, Gabriel Flores with Inkwell Press for screen-printing the ScienceREACH team shirts, as well as the faculty, staff and families from all the schools.